Sweet 'n' Sour Chicken. Sweet and Sour Chicken is a classic Chinese takeout option most of us are too afraid to make at home. Something about woks and cooking with pineapple make it Of the classic Chinese Recipes that most people ask for on my blog the one I hear about the absolute most is sweet and sour chicken. This recipe for Sweet and Sour Chicken doesn't deep fry, but instead uses a method for creating a delicate, smooth and succulent chicken that goes perfectly with a lighter sweet and sour sauce.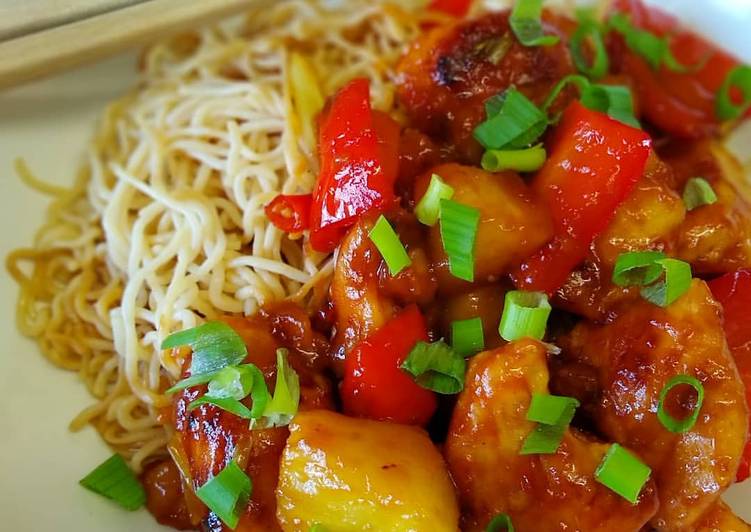 Chicken – use boneless skinless chicken thighs for the best flavor, or chicken breasts for a lighter option. Batter – you'll need cornstarch, all-purpose flour, egg. Sweet and sour chicken is a popular Chinese recipe. You can have Sweet 'n' Sour Chicken using 18 ingredients and 8 steps. Here is how you cook that.
Ingredients of Sweet 'n' Sour Chicken
It's 220 g of chicken breast, cut into chunks,.
Prepare 1 of large green or red bell pepper, cut into chunks,.
You need 1 of onion, cut into chunks,.
It's 100 g of frozen or fresh pineapple chunks,.
Prepare 1 of spring onion, sliced thinly.
It's of Vegetable or sunflower oil for frying,.
Prepare of For the chicken coating:.
It's 3 tbsp of Cornflour,.
Prepare 1/2 tsp of white pepper,.
It's 1/4 tsp of salt,.
You need 1 tbsp of Dark soy sauce,.
Prepare 1 of beaten egg,.
Prepare of For the sweet and sour sauce:.
You need 3 tbsp of sugar free ketchup,.
Prepare 1 of and 1/2 tbsp organic runny honey,.
You need 1 of and 1/2 tbsp white wine vinegar,.
Prepare 1/2 tbsp of premium oyster sauce,.
It's 1 tbsp of light soy sauce.
For the best sweet and sour chicken, please following my cooking tips below: The combination of plum sauce, Lea and Perrins Worcestershire sauce and Chinese rice vinegar make the sauce tastes like the best Chinese restaurants. You could use a mix of boneless dark and white meat, makes the chicken pieces moist and juicy. Pineapple and vinegar are the sweet and sour in this Asian-style chicken and green pepper stir fry. When ready to serve, layer green peppers, pineapple chunks, and cooked chicken pieces on a platter.
Sweet 'n' Sour Chicken instructions
In a bowl large enough to place all of the chicken pieces in, put the dark soy sauce. Add the chicken and toss so that it is all coated fully. Leave in fridge to marinate for 10-15 mins..
In a separate bowl large enough for the chicken pieces, place about three tbsp of cornflour, the white pepper and salt.Take the marinated chicken pieces and dip each piece into the beaten egg and then roll into the cornflour mixture until lightly coated with no gaps. Do this with all the chicken..
Heat up a wok over a high heat and add enough cooking oil to cover about 4-5mm of the base. Leave to get hot enough for frying then add the chicken pieces in batches, so not to overfill the wok and lower the cooking temperature, using wooden chopsticks or tongs turn occasionally until all sides are crispy and golden brown. The chicken should only take a few minutes to cook. Lay out some sheets of kitchen roll and gently remove the pieces from the wok and lay them out on it to remove excess oil..
Here it's usually wise to slice into one of the larger pieces of chicken, to ensure it's cooked through and not pink. In a jug or cup make up the sweet and sour sauce by adding all of the listed ingredients for the sauce and giving it a good mix. Set aside..
Carefully remove almost all of the oil from the wok, leaving just enough to fry the vegetables with, (around 2 tbsp worth). Add the onion first and stir whilst it fries so it doesn't burn. After around three minutes add the bell pepper and the pineapple, cook for another 2-3 mins, or if using frozen pineapple, until it's no longer cold in the centre and is defrosted..
Add the sweet and sour sauce to the wok with the onions, pineapple and peppers. Reduce down for around two minutes until it starts to thicken and it's warmed through. Add the crispy chicken pieces and toss everything together quickly (to keep coating from becoming too soggy), so it's evenly coated in the sauce. Remove from the heat..
Plate up and garnish with chopped spring onions..
Perfect eaten alongside Chinese style rice or noodle dishes..
Pour hot sweet and sour sauce over top. This entree was served at a special dinner hosted by my Sunday school teacher. The ingredients are simple, but the chicken is tender and tasty. Season chicken with salt and pepper. Coat with cornstarch, dip in beaten egg.