Pressure cook Mexican Casserole.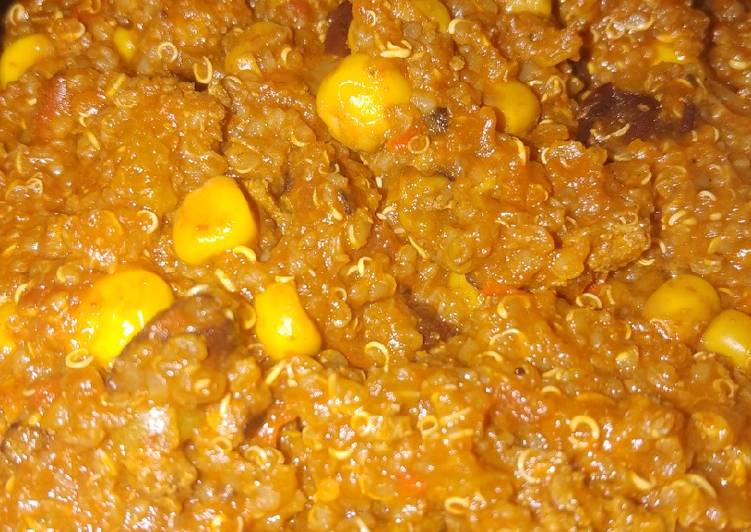 You can have Pressure cook Mexican Casserole using 16 ingredients and 6 steps. Here is how you achieve it.
Ingredients of Pressure cook Mexican Casserole
It's 1 pound of ground turkey or chicken (I used 93% lean ground turkey).
Prepare 1 tablespoon of extra-virgin olive oil.
It's 1 cup of uncooked quinoa.
It's 1 of medium yellow onion, diced.
Prepare 1 (10 ounce) of cans red enchilada sauce (mild or medium).
It's 1 (15 ounce) of can black beans, drained and rinsed.
You need 1 (15 ounce) of can fire-roasted diced tomatoes in their juices.
You need 1 cup of corn kernels, fresh or frozen.
You need 1 of red bell pepper, cored and diced.
Prepare 1 of green bell pepper, cored and diced.
Prepare 1 tablespoon of ground cumin.
Prepare 2 tablespoons of chili powder.
Prepare 1 teaspoon of garlic powder.
You need 1 cup of shredded Mexican blend cheese, divided.
You need of For serving: chopped fresh cilantro, diced avocado.
Prepare of chopped green onion, sour cream or plain Greek yogurt.
Pressure cook Mexican Casserole instructions
Heat the olive oil in a large skillet or Dutch oven over medium high. Add the turkey and onion. Cook and stir, breaking up the turkey as you go, until the turkey is no longer pink, about 5 minutes. Transfer to the bottom of a large pressure cooker..
To the pressure cooker, add the enchilada sauce, black beans, tomatoes, corn, red bell pepper, green bell pepper, chili powder, cumin and garlic powder. Stir to combine, then cover and pressure cook on high for 25min..
While cooking add 1 cup of quinoa to a small pot with 2 cups of water. Boil till water is absorbed..
Quick release pressure to remove the lid and stir. Add quinoa and stir. Taste and adjust any seasonings as desired..
Saute to desired consistently..
Stir in 1/2 cup of the shredded cheese, then sprinkle the remaining cheese over the top. Serve hot with any desired toppings..